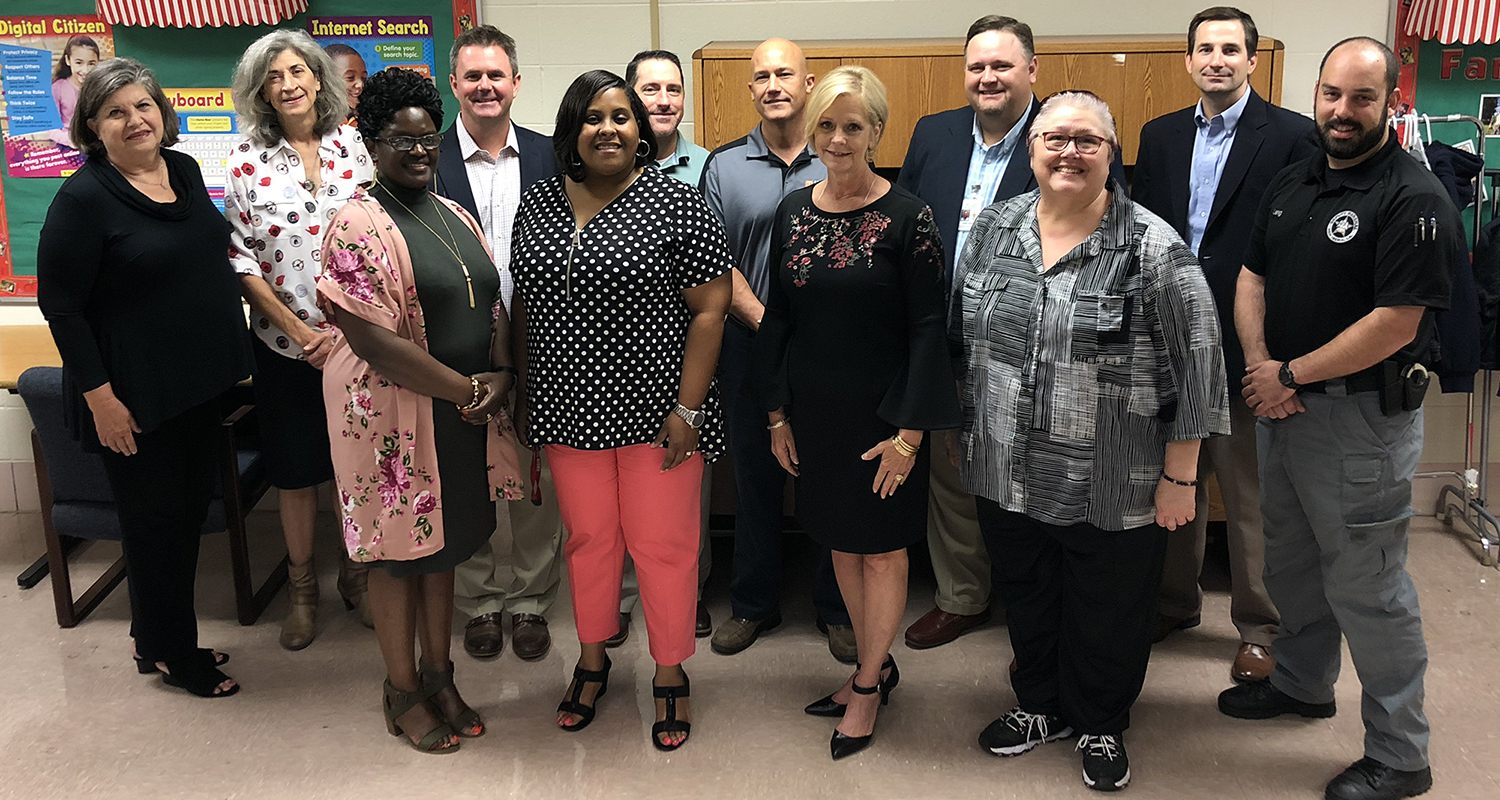 Front Row: L-R: Lenette Hawk-Hill, St. Charles Elementary School Principal; Devon Jones, Jeanerette Elementary School Principal; Margarette Derise, United Way of Acadiana; Corleen Rouly, United Way of Iberia Executive Director; Brett Lang, United Way of Iberia Board Member
Back Row, L-R: Beverly Shea, Iberia Parish Foundation, Elizabeth Little, Iberia Parish Foundation, Beau Beaullieu, Damon Migues, The First National Bank; Jacob Giardina, Giardia Family Foundation and HonIron Manufacturing, Heath Hulin, Iberia Parish School Board, Todd McCormick, Community Foundation of Acadiana
New Iberia, LA – Iberia Parish Foundation, an affiliate of Community Foundation of Acadiana, coordinated a fundraising campaign to secure funding for Leader in Me (LiM) programs in schools throughout Iberia Parish.
Due to the generosity of public and private donors, Daspit Elementary, Jeanerette Elementary, North Street Elementary, and St. Charles Elementary Schools will continue teaching LiM in their schools.
According Franklin Covey, LiM is an evidence-based, comprehensive school improvement model that empowers students with the leadership and life-skills they need to thrive in the 21st century.
Devon Jones, the principal of Jeanerette Elementary School, said she has seen significant improvement in the behavior of her students since implementing LiM.
"We can really change our community through this one program by teaching them how to be empowered leaders and really taking charge of their own future," said Jones.
"A Leader in Me program teaches them to be themselves because everyone is a leader," said Lenette Hawk-Hill, principal of St. Charles Elementary School.
Beau Beaullieu, coordinator of the fundraising effort, wants to empower kids to do what they were born to do. "I think as adults we underestimate the potential these children really have," said Beaullieu, a partner of CoSource Financial Group LLC. "They should be taught and encouraged how to lead in their own individual way."
A portion of LiM will be funded with public and private donations from numerous supporters, and the Iberia Parish Foundation. This initiative is made possible with the help of William C. Schumacher Family Fund, United Way of Acadiana, and United Way of Iberia Inc.
Anyone can make an online donation to Iberia Parish Foundation to support Leader In Me programs by visiting http://www.cfacadiana.org/ipf.
Established in 2007, Iberia Parish Foundation is a nonprofit organization who supports arts, education, community development projects and improving the local culture and tourism industry in Iberia Parish.
Community Foundation of Acadiana is a tax-exempt, donor-centric, entrepreneurial foundation whose core purpose is building legacies and improving communities by connecting generous people to the causes they care about. CFA is south Louisiana's premier philanthropic organization benefiting our region, with a particular focus on the parishes of Acadia, Evangeline, Iberia, Lafayette, St. Landry, St. Mary, St. Martin and Vermilion.